By Nicole Zahn
Whether it's the food, the company, or the love of the game … the Super Bowl is just as much about the commercials as it is about the game itself. For years, Super Bowl viewers from all over tune in to see whether or not the advertisements will live up to their entertainment expectations. With Super Bowl LIII, however, the 2019 viewership fell to the lowest ranking since 2008. And as the Rams lost to the Patriots, game-day viewers also felt a loss with the ads.
Earlier this week, the American Marketing Association – Northeast Ohio Chapter (AMA NEO) held its annual "Big Game Ad Review" providing marketers and advertisers the opportunity to analyze and discuss the best and worst ads of Sunday night's game. Ads were placed into a bracket, and a panelist of industry professionals—including akhia's very own Ben Brugler—shared their thoughts on this year's advertising themes. Brands to rank were selected based on Super Bowl party feedback, online buzz, panelist input, and the dreaded ad meter. With commentary on everything from Devour Food's uncomfortably hilarious "Food Porn" ad to Bud Light's eye-roll-inducing "Corn Syrup" ad, this event gave this fresh, recent graduate the chance to not only share her love for football, but to engage in a discussion about what it means to be an advertiser.   
Game-Day Advertising Key Elements:
Nostalgia Captures Attention
The AMA audience noticed a trend among this year's ad approach that had us wondering if we were in 2019 or 1999. While ads are designed to sell things, advertisers took a different approach this year to hook their audience. From Carrie Bradshaw to The Backstreet Boys, these ads showed us that the more we connect with the characters or theme of the ad, the more likely we are to remember it. I know when I see the new

"Flamin' Hot Nachos" Doritos

,

"I Want It That Way" will take me back to my fangirl days.

The Point of a Message – Don't Forget it!
While ad creativity is prominent, advertisers must not forget the sole purpose of the message they are trying to convey. For example, Hyundai shared

this Elevator ad

to showcase its new Shopper Assurance app. Panelist

Lorraine Kessler

mentioned that although the ad hooked its audience with humor and relatability, the product wasn't introduced until the very end and for only a split second. Traffic driven to the product may then not be reached. Similarly, Bumble moved forward with its women-focused "

The Ball is in Her Court

" campaign featuring Serena Williams. Instead of focusing on the product and what it can do for consumers, Bumble focused on using a celebrity to drive its focus. "The ad never repositioned the product from the campaign," said Kessler. "They Bumbled this ad." Although Bumble kept up with societal opinions pertaining to the #MeToo movement, the campaign didn't really cover what the product can do and its importance.

Environment is Everything
Brands can present a strategic and creative ad that captures the attention of thousands of viewers and create a major buzz on social media, but if the ad doesn't fit the environment it's placed in, viewers may not know how to respond. Each year, there tends to be a theme for Super Bowl ads ranging from serious to heart-felt to humorous. Although this year showcased a variety of themes, there didn't seem to be room for the serious. For Google and KIA, the storytelling of these ads offered the heartstring-pulling effect that many advertisers aim to reach. Although the ads shared a story, they may not have meshed well with a Super Bowl context filled with Corn Syrup and

Killer Skin

messages. As marketers and advertisers, we must stay up to date with industry trends and the sneak-peek previews of commercials to gain an understanding of what direction other ads will be going, then determine if our concepts are too jarringly different.
Through panel and audience vote discussion, Devour Foods and Microsoft were the two finalists with Microsoft in the lead. Microsoft won by using a touching, personal story to introduce its Xbox adaptive controller and how it can change lives. Though Devour Foods did an exceptional job building brand awareness, it may not have sat well with a range of audiences.
From an advertising perspective, an event like this provides the ability to tap into the trends of today's society and consider how brands are using them to compel consumer action. I found the many different perspectives of each ad remarkable, and it makes me eager to see what Super Bowl LIV has in store.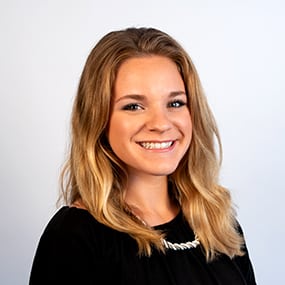 Nicole Zahn
Assistant Account Executive at akhia
Nicole supports clients by collaborating as a team to bridge the gap between brands and their audiences.
akhia specialties – We help you break down walls between departments to find the simplest, most efficient and most effective communications strategies that will drive your business forward.