Where are you now and where are you going?
For anyone looking to build a modern brand in 2021, social media has proven to be a critical element in the marketing mix. Today, about 80% of the American population uses social media, and these channels have seen huge growth in engagement for both consumer and B2B brands during the pandemic.  In addition to an already high user base that applies to all brands, usage and reliance have increased as people turn to online media as a welcome distraction from living through COVID-19. Some 46% of women and 41% of men said they've spent more time on social media during the pandemic, which makes these platforms invaluable tools for brands at this time and into the future.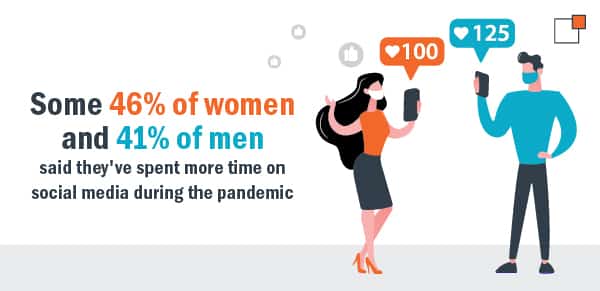 Opportunities for B2C and B2C brands
The pandemic has also accelerated consumers' comfort with online shopping. To adapt social feeds, consumer brands must be focused on capturing attention and providing consumers with adequate information that makes it easy to conduct most (if not all) of their buying process online.
In addition to information, consumers are also looking for quick escapes during the pandemic and want more "snackable entertainment" from their social feeds which, if done correctly and tactfully, can include hearing from brands.
For B2B brands, social use had been growing prior to the pandemic, but COVID-19 was a tipping point for many to accelerate investment as traditional sales and marketing channels (face-to-face meetings, trade shows, etc.) have become mostly non-existent during the pandemic.
In order to ensure successful brand building through social media in 2021, you have to start by assessing where you're at, then laying the groundwork for where you want to go. For part one of this two part blog series, the social media team at thunder::tech has assembled our best tips for conducting an effective social media audit and revamping your social strategy planning to give you a running start into the new year.
Conducting a social media audit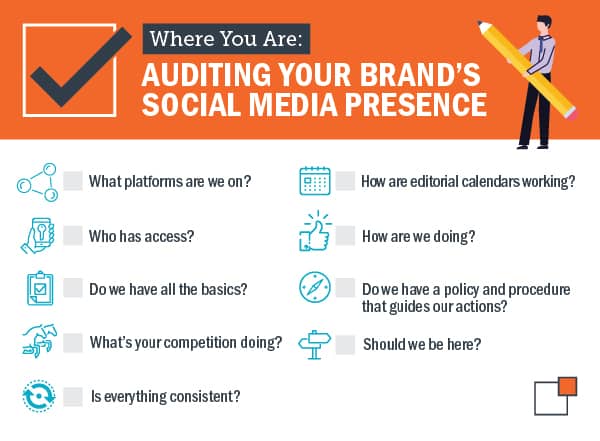 What platforms are we on?
Search all social media platforms, even if you don't think you have an existing account. Trust us. The social team at thunder::tech sees a lot of orphan accounts brands have forgotten or never knew about that someone may have set up a long time ago. Clean these up and make sure policy is in place preventing extra accounts from being created without approval.
Who has access?
Get a list of everyone who has the logins/admin permissions on all business pages. Change passwords and usernames if necessary. Set a policy to revisit this on a regular basis.
Do we have all the basics?
Every platform requires accounts to have a profile picture, about section, hours, links, etc. and some even need a cover photo. Audit your profiles and fill in any blanks on your public presence.
What's your competition doing?
Check out the branding and content on your competitors' accounts and aspirational large-scale brands. Competitor research can show you what is and isn't working for other similar brands and also uncover opportunities about how to differentiate against them.
Is everything consistent?
Stick to your brand guidelines when updating account information! Logos, color palettes, profile pictures and more should be the same across the board. Make sure technical details such as phone numbers, retail hours and other important facts are the same from platform to platform.
How are our editorial calendars working?
First, do you have an editorial calendar (you should!)? Then, do your editorial calendars need a refresh on strategy or tactics based on rising importance and the changing marketplace during the pandemic?
How are we doing?
Benchmark, benchmark, benchmark! You can have a gold star if you're already tracking progress on social media, but if not, start now. Reporting is the best way to see the effectiveness of specific campaigns and approaches. Check metrics like followers, engagement, reach, etc. for a well-rounded view of your social presence. If you don't already have software to help with this, seriously investigate your options.
Do we have a policy and procedure that guides our actions?
What are your guidelines on how fast your response time should be, how will you handle trolls or worse, a full-fledged social media crisis? Write these out and share with your team and executives.
Should we be here?
It feels like there are new social media platforms every day and the pressure to sign up for each one is overwhelming, but most brands don't need to be everywhere! Figure out the best platforms for your industry and audience and focus all effort where it matters.
Social media elements to research and refine for 2021
But wait, there's more! In addition to performing an audit and taking the time to reflect and measure your current situation, you'll have to go above and beyond. To seriously accelerate your brand building through social media in the new year, consider how you will address these elements as well:
Software for measurement and posting
Even if you're using third party software to manage and measure your social media efforts, you should take the opportunity annually to reacquaint yourself with the marketplace. The space is evolving so quickly, modern brands have to keep up with the tools that should make their job easier. Here's a quick list of 25 social media management tools to start your research with.
Editorial calendars
Most marketers agree that editorial calendars are needed, but too many let this fall by the wayside over time. Plan out your editorial and content calendars for better control and likelihood of success. The best brands on social media don't wing it and neither should you.
Investment in content creation
To truly stand out on social media today and certainly into 2021, you need content that is worthy of your audience's attention. You can plan this out with the above content calendars, but to execute it, you'll need a content marketing workflow.
Advertising budgets
If you haven't built a social media advertising budget yet, 2021 is the year to do it. Succeeding consistently at the organic game is increasingly difficult. To really build your audience and reach more consumers, social advertising is a necessary component.
Treat your social media audience with an appropriate level of importance. Use your audit as a roadmap  so you can better understand how to move from Point A to Point B, then build a step by step plan to get there with the help of the tools mentioned above.
Remember, your social media engine has to be in good shape before you hit the gas on your brand and cruise into the new year, so start your maintenance now!
Written by the thunder::tech Communications Department
The thunder::tech Communications Department is chock full of strategists, advertisers, analysts, number crunchers, researchers and communicators. We specialize in managing complex marketing communications with a lot of moving parts spread across multiple disciplines.
About thunder::tech


thunder::tech is an integrated marketing agency delivering advertising, communications, web design, graphic design, video and branding expertise to our middle-market and enterprise clients across the globe. Are you ready to accelerate your brand?