My senior year at university may have been cut short, but the transition from in-person to virtual reinforced the importance of new media marketing and understanding how to utilize social platforms to promote your business. Beginning with introductory marketing courses, all the way through capstones, business schools are focused on providing their students with the fundamentals of their course of study in order to prepare them to enter the workforce. This presents a challenge for subjects that are ever-changing and developing in the business world, such as marketing, where new trends are constantly emerging.
My education played an incredible role in my ability to understand industry terminology, conduct research, strategize, and create marketing plans. Working on projects for external clients taught me valuable communication skills, how to work efficiently with team members, and follow deadlines. However, a classroom setting has its limitations and can only do so much to mimic responsibilities that students will have after graduation. Internships are a vital part of the education process, giving students the opportunity to implement the knowledge gained during the semester. For me, internships were the time to experience firsthand many platforms and tools that are heavily utilized in the marketing world, ranging from HubSpot to Qualtrics to search engine optimization. Courses teach different strategies to discover your target market and create a strategic plan, but there is a lack of implementation and ability to analyze the results of the campaign. Students do not gain the hard skills of scheduling a social media calendar, tracking emails, or managing campaigns, and therefore are left at a disadvantage when applying for jobs.
With a generation that grew up with social media accounts, many recent marketing graduates are aware of how various social media applications function, in addition to the demographics of each. However, creating a personal profile that represents an individual versus managing a multi-platform campaign are not exactly the same. Representing a business on these new media marketing platforms forces the user to combine their previous expertise on social media with their knowledge of classic marketing strategies while learning new versions of the software and staying alert to new trends. Marketing on social media truly is not as simple as posting a picture on Instagram every day.
Yet, even with the challenges presented with launching a successful social media campaign, the benefits could be substantial, ranging from cost-effectiveness to market reach. Out of all the American companies and organizations that I have been affiliated with, every single one had a presence on social media and on more than one platform. It is also a tool I depend heavily on when applying for jobs as their image online can give me insight into the company culture and relationship with their customers. Recent graduates are coming out of school, searching for jobs, and entering the business world with innovative mindsets and an increased awareness of company values, affecting both who they choose to work for and who to buy from. By not taking advantage of these new media marketing tactics, businesses may not only take a blow from customers, but may also struggle recruiting their future workforce.
New media marketing is evolving each day and is a strategy that businesses of all sizes need to adopt if they hope to have success with the next generation of consumers and workforce.
About Lizzie: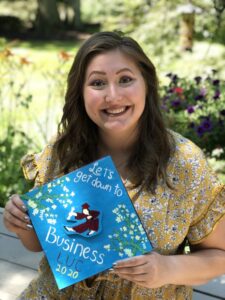 Lizzie Thornton is a '20 graduate from Loyola University Chicago with B.B.A.s in Marketing and Entrepreneurship. She found passion for entrepreneurship after participating in the Veale Foundation's Business Plan Competition at Case Western Reserve University in 2016. Her dedication to her studies led to graduating magna cum laude and being awarded the Silver Key in Entrepreneurship, reserved only for a student that demonstrated outstanding academic ability.
Her professional career expands over multiple internships, learning from many mentors about implementing the marketing skills she learned in school. In the fall of 2019, Lizzie was accepted to be a 2020 fellow with Venture for America, a fellowship for recent graduates who hope to create economic opportunity in growing American cities through working at start-ups. After attending a month-long training through the program, she continues to look for marketing opportunities at a start-up where she can apply her acquired skills and assist in growing the business.