Join Us!
Membership in the American Marketing Association, and the local Northeast Ohio Chapter, means more than a nifty line on your resume. When you're a part of the AMA, you're a part of an interconnected tribe of passionate marketers that work together, learn together and grow together. Besides becoming a part of the Northeast Ohio marketing family, there are other perks to consider, including:
Up to a 40% discount on all AMA NEO Chapter events
Access to the AMA's extensive collection of marketing education materials
The ability to attend Special Interest Groups (and to bring a friend!)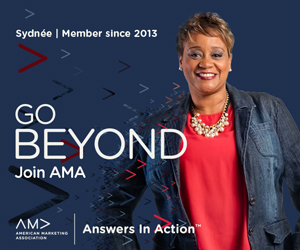 There is no better time than now to be a part of the American Marketing Association. Whether you're a seasoned professional or a full-time student, membership in the AMA is a must to stay up-to-date with a quickly shifting marketing place, and to stay one step ahead of your competition in the meantime. One of the nation's most successful and active chapters is in your own backyard; what are you waiting for?
Want to know more about becoming the newest member of Northeast Ohio's premier marketing organization? Email us your questions, or better yet, Join Now!
Annual Membership Dues
$240 National American Marketing Association (+$30 one-time application fee for new members)
$45 to join the Northeast Ohio Chapter