Your Pandemic Pivot – Why Every Business Needs One – ONLINE EVENT
May 28, 2020 @ 8:30 am

-

9:30 pm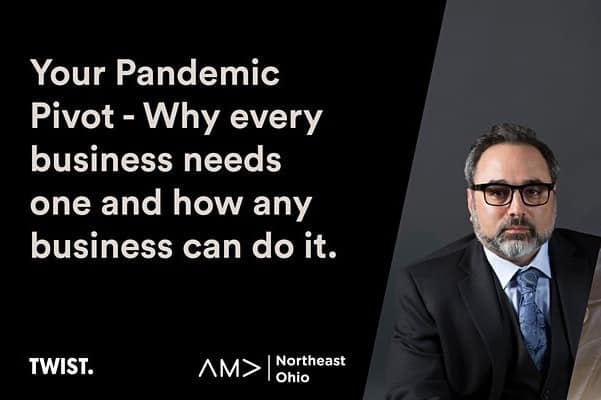 A conversation with TWIST Creative CEO & CCO, Michael Ozan, as he shares his insights on why you need a pandemic pivot.
About this Event
It's time to pivot your brand, your key messages, your sales process and your product. Right now!
Big brands pivoted their message fast. Mike Ozan, a 25 year advertising veteran, writer and brand strategist will demonstrate what you need to know and deliver tools that will help you structure a DIY pivot. Your customers' problems have changed. Their selection and purchase criteria has changed. It's time to preserve your brand and accelerate your customers' loyalty. It's time to prepare your brand for the recruitment opportunities that will befall local companies as top talent leaves the coasts and heads to smaller metro areas. Please join us.
Michael Ozan is a writer, brand strategist and creative visionary. For twenty years he has lead the acclaimed creative team at TWIST Creative, Inc with his wife and co-founder, chief design officer, Connie Ozan. A brand consultant in high demand by clients in healthcare, consumer products, manufacturing, professional services and hospitality, Mike has lead his team (aka The Fearless Thinkers) on a mission to help Cleveland brands impress the world. Working outside the norm for the Cleveland market, Mike seeks to bring the design thinking, sophistication and intelligence of larger brand agencies to local brands whose beginnings, experiences and world view are proving at odds with the messaging that resonates with their audience. Since the beginning of the pandemic TWIST, under Mike's leadership, has pivoted its approach by first focusing only on local clients, and second, by innovating new collaborative approaches to developing small donor giving strategies for non-profits. A focused leader with a love for his team, his hometown and an impossible challenge, Mike continues to build resourceful, logical and executable strategies for our city's brands that come from a place of deep understanding of both roots, challenges and aspirations. Dynamic, funny and quick on his feet, Mike is known for making the complex simple and, as he says, "Un-boring."