The Ultimate 2020 Marketing Checklist
October 10, 2019 @ 11:30 am

-

1:00 pm

$30 – $45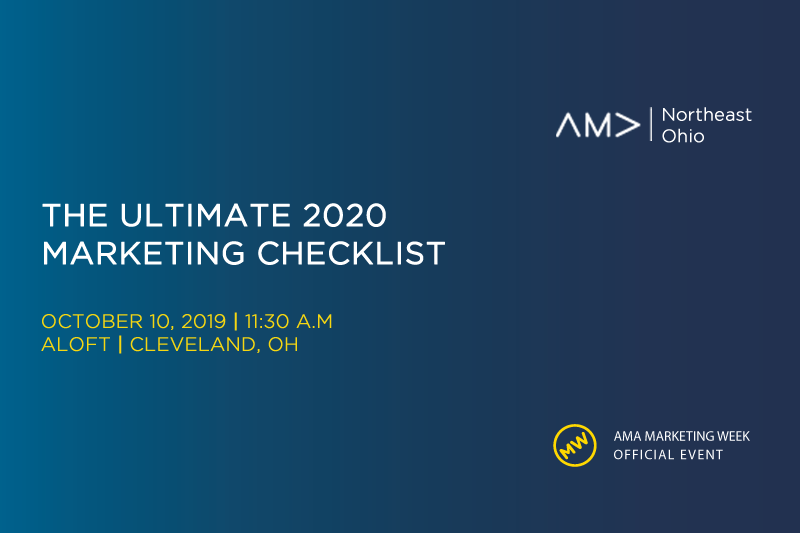 Join AMA NEO during AMA Marketing Week as we present a panel discussion that will give you the ultimate 2020 marketing and communication planning checklist.
What You Will Learn:
Our panel of experts will provide 10 critical marketing and communications strategies that will help you understand the current and future trends as you start strategic planning for 2020.
The Facts:
Date: Thursday, October 10, 2019
Time: 11:30 a.m – 1:00 p.m. (program starts @ 12 p.m.)
Cost: Members $30, Non-members $45
Location: Aloft Cleveland Downtown
Parking on-site ($12 valet, meters, paid parking lots)
Lago Deluxe Soup and Salad buffet including grilled chicken & other protein
Our Speakers:
Ryan Miller: Senior SEO Strategist, Verizon Media Group
Ryan is flying in from NYC where he has been leading SEO content and site development strategies with some of the biggest digital content publishers since 2010 and currently works with Yahoo News, Yahoo Entertainment, and HuffPost.com. He has previously worked on properties for Conde Nast including wired.com, and Advance Digital including cleveland.com.
He has worked professionally in the digital space since 2001 including in-house e-commerce and a legal website agency and developed his first websites in the mid-90s. Outside of work, Ryan is obsessed with movies, enjoys overpriced tiki cocktails, and moonlights in NYC as a ska DJ and podcast host.
Ben Brugler: President & CEO, ahkia communications
Ben holds the titles of president and CEO of akhia. He previously held the titles of president and vice president before being transitioned into his current position in 2018. Under Ben's leadership, the agency has grown from 15 to more than 60 employees, earning a spot as a Top 100 Workplace in Northeast Ohio, as well as placement on the Weatherhead 100 list of fastest-growing companies in the region.
With more than 15 years of experience in the industry, Ben is well-known among clients and the regional business community as a master facilitator and speaker on topics ranging from content marketing to thought-leadership positioning.
In 2011, he was named to Crain's Forty under 40 list for his contributions to AKHIA's growth.
T.J. Salopek: Interactive Marketing Lead, Goodyear
T. J. is a digital marketer with 10+ years of experience in digital media, digital strategy, programmatic and e-commerce.
Currently, T. J. is an Interactive Marketing Lead at Goodyear. In the past, he was instrumental in creating a marketing plan for an award-winning start-up company called Made for Freedom. He is a proud graduate of Webster University (MBA), Kent State University (Advertising) and Cornell University.
Angela Bergmann: Advance Local
Angela is the Senior SEO Strategist at Advance Local. She has 15+ years of experience in digital marketing, with a specific focus on SEO. She believes wins are based on conversion and organic growth, not increasing keyword rankings. Beyond SEO she is passionate about citizen advocacy, video games, dogs, and accessibility.