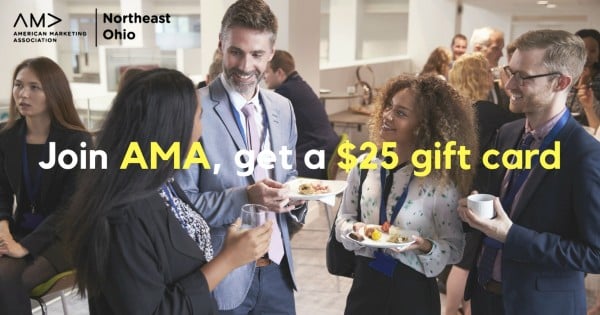 Count On These Valuable Benefits!
(PLUS a $25 Gift Card*)
Local Event Discounts. Members typically save 10-25% on our luncheons, dinners and Mix@6 events. Exclusive free access to scheduled Special Interest Groups.
Cost-effective continuing education.
Our local and national programs include presentations from top marketing professionals, giving you a fresh perspective and an opportunity to learn from, and interact with leaders in your field.
Organized networking for marketing professionals.
AMA Northeast Ohio hosts a variety of networking focused and educational events. Whether you're engaged in a job search or looking for resources to support you in your current job, we can help.
Leading marketing publications.
AMA magazines such as Marketing News, Marketing Insights and Marketing Heath Services provide readers with leading edge ideas, strategic thinking and practical solutions to challenges facing marketers every day.
Vast online marketing resources.
Only AMA members can take full advantage of AMA.org. A comprehensive resource for all things marketing, it includes research, white papers, resources and tools, webcasts and podcasts, webcasts, best practices and the AMA Marketer's Toolkit to help you find quick, efficient marketing solutions and fresh ideas.
A variety of leadership opportunities.
Significant volunteer positions are available through that chapter that will allow you to form valuable new connections while boosting your visibility, credibility and skill-set.

*Gift Card offer valid 5/1/2018 – 5/31/2018. Must be a new member of AMA Northeast Ohio. First 10 to join receive a $25 gift card to one of the following retailers: Amazon, Starbucks, Dunkin' Donuts, Target, or Best Buy. Once your new membership is processed, you will receive an email from AMA NEO with information and a link for receiving your gift card. Other conditions may apply. © 2018 AMA Northeast Ohio.