As a child growing up in the 1980's, many of my fondest childhood memories revolved around the sport of baseball. Whether it was playing "A" ball for the city of Brook Park, attending games at "Old" Municipal, endlessly opening packs of late 80's editions of Fleer, Upper Deck, Topps, and Donruss, hoping to acquire cherished Ken Griffey Jr. rookie cards, I was fully vested in the sport of baseball. I still am. 
I fondly recall attending opening days, first with my father, another baseball die-hard who introduced me to the sport, and later with my friends. Some years, a mix of both. 
For me, the allure of baseball correlated to the unexpected; you never knew what could happen at a game. I took this to mean you might see a no hitter (I never did) or to see a Hall of Famer's Major League debut – I was at Joey (later known as Albert) Belle's first game when in his first at bat he singled off of an aged Nolan Ryan but an injury-shortened career, and attitude, have kept him out of Cooperstown. With baseball, you simultaneously embrace its rich history while hoping to see it being made each game. 
So while that on-the-field history remains elusive, it took me until the recent news of the Cleveland Indians rebranding themselves to be the Cleveland Guardians to realize I was seeing history nearly every opening day I attended. It just didn't always happen between the lines. By my recollection, it was the first time I saw a protest. Protests occurred annually each Opening Day, with a dozen or so people in protest of Chief Wahoo. Protesters would congregate near the entrance, first at Municipal Stadium, later at Jacobs Field, and continued when the team re-branded the park as Progressive Field. Over the last few years, the protests continued past the home opener and their message boomed louder than the megaphones on the "corner of Carnegie and Ontario"; becoming unison in their displeasure across the country and beyond, through personal social media accounts and the national media itself.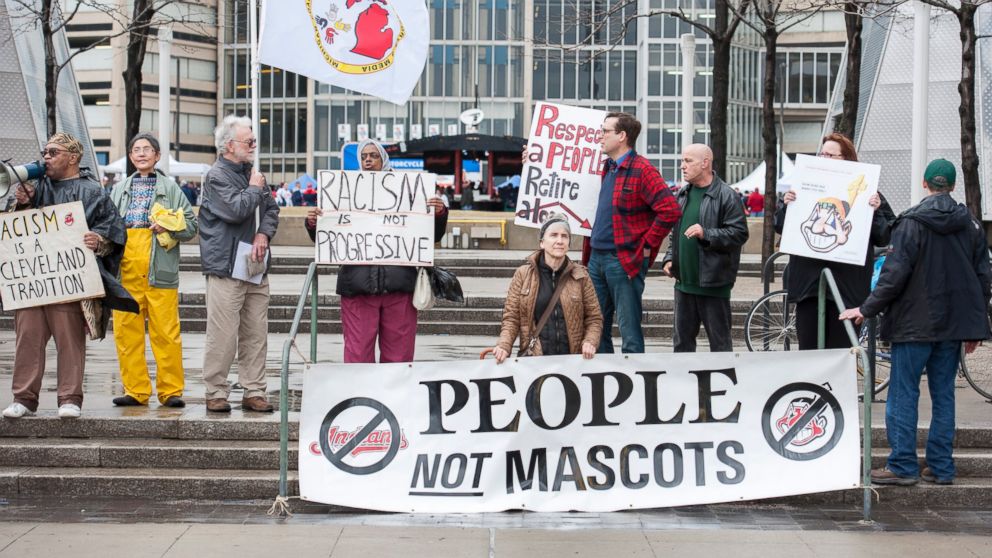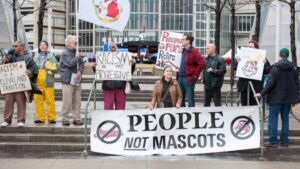 History shows that  the name Indians was cast upon the franchise in 1915, in honor of Louis Sockalexis, the first Native American baseball player in the majors. Early iterations of what became the Chief Wahoo logo debuted on the team uniform in 1947, but it wasn't until 1951 that the name Chief Wahoo, which came about from sportswriters, was officially coined by the team. Later versions which are more commonly known today, were designed. It never really hit its mark: the creator of the logo, an at-the-time, 17 year old designer named Walter Goldbach said in 2008 that a child told him "he's not a chief, he's a brave. He only has one feather. Chief's have full headdresses."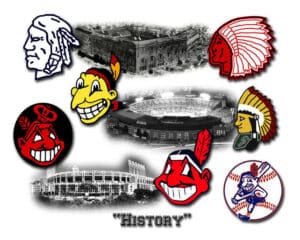 What may have been meant as an honor quickly turned into caricatures adorning nearly every Cleveland household for more than a Century. Sometimes this honor came with red face paint and mock headdresses. It was no longer about rabid fandom. It was appropriation, plain and simple. 
As the decades passed, as my scouring through morning box scores in the Plain Dealer's sports page was replaced first with ESPN broadcasts and later with social media, the groundswell to remove Chief Wahoo grew deafening. By the mid-2010's, it was everywhere. 
In 2016, former Team President Mark Shapiro was quoted as saying the Wahoo caricature was always "troubling, personally" to him. He was also the one of the few people with enough influence on ownership who could have probably ended it much sooner. Instead, he never said anything negative publicly until he left the franchise and moved into the same position with the Toronto Blue Jays. Maybe he tried. He was quoted as late as 2013 saying "The Cleveland Indians team name isn't going anywhere." Fans applauded and Shapiro himself laughed nervously. 
Finally, in the beginning of 2018, the team formally announced that it would remove the Chief Wahoo logo from uniforms at the start of the 2019 season. However, official Major League Baseball attire featuring the logo was still available to purchase from the team's own gift shop and online store. 
It took until the summer of 2020, during the civil protests which unfolded as a result of George Floyd's murder and an uneasy political landscape before the team realized they couldn't wait any longer and had to do something with the name. Given the team's lack of urgency for decades, one could easily be convinced it had more to do with other sports teams facing significant repercussions due to sponsors threatening to distance themselves from teams, such as the Washington Football Teams public battle with stadium sponsor FedEx, who issues an ultimatum to either remove the name or lose them as an $8 million dollar annual sponsor. Nike followed by removing all Redskins team memorabilia from their online shop. Investors of PepsiCo followed with threats to pull its sponsorship. 
A week later, in late July 2020, the team formally announced plans to remove the name Redskins. 
The Cleveland Indians followed later in the year and announced they would change the name prior to the start of the 2022 season. Perhaps similar threats came in from its sponsors including Progressive, Sherwin Willams, Key Bank, etc. Names such as the Spiders, Guardians, Naps, and Buckeyes all made their way across social media platforms with fans going so far as to design mock logos. Still a groundswell of die-hard Indians fans refused to accept the name change. T-shirts shunning the removal of Chief Wahoo were visible on the chests of many middle-aged fans from suburb-to-suburb. It didn't help that ownership, led by CEO Paul Dolan, stated as recently as 2018, that the team was "adamant about keeping the name Indians" and doubled-down by referencing the support of Major League Baseball Commissioner Rob Manfred. Fans were hearing mixed messages and resorted to pointing the finger at cancel culture, or "left influence" as the reason for the team distancing itself from the logo and, ultimately the name. 
On July 23rd, after rumors began circulating less than 24 earlier that a name was "decided" a video was released by the club featuring Cleveland advocate and mega star Tom Hanks that the new moniker was Guardians. The team's colors remain, and the script is reminiscent of the old name with the "dians" playing homage to the 100 year plus history.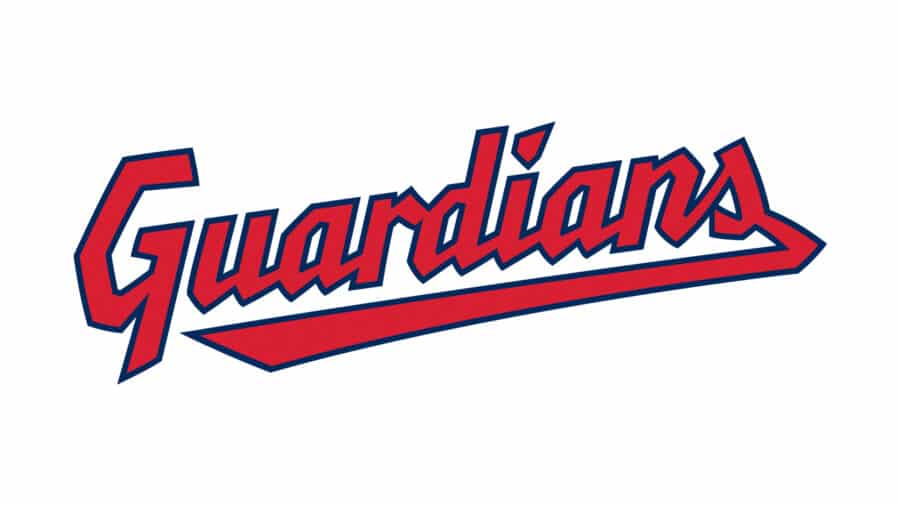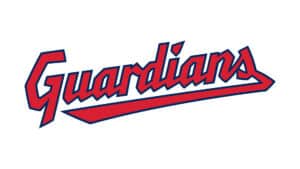 In terms of a rebrand, for many, it was long overdue. A World Series victory has eluded the club since 1948. Since that time there were great teams and great players, and heartbreaking close calls, none closer than two World Series' that featured Game 7's; both decided in extra innings in favor of the opposition. There were rebuilds and All Star games hosted, home sellout records that may never be broken and free agency exits to major markets that seem all too common. 
But now, we have turned the page on a chapter that went beyond a typical business rebrand and became ugly, personal, and time will tell just how personal things can get in a working class town that prides itself on the performance of its sports teams. Just last week, the franchise announced a $435 million dollar agreement for renovations (of which more than half will be funded by city and county tax payers) that will extend the team's lease in Cleveland for at least 15 more years. Club officials said the timing of the announcement, in the wake of the name change, was not intentional and was made independently. Will the fans rally around both a name change and increased taxes? Again, time will tell, but signing key players (the club has the lowest current payroll in MLB), and ultimately contending again after a down year, which saw star infielder and fan favorite Francisco Lindor leave, err.. get traded… to a deep pocketed New York franchise, can cure harsh feelings. 
There's an old adage in marketing that states that the first rule of marketing is to focus on your audience. In many ways, The Cleveland Indians franchise has followed this to a tee. It's a working class town that celebrates its history. With that history, came a 100 year old plus franchise that for more than 70 years, featured a logo that was both popular with its fans and troubling with many who viewed it as a racist caricature that debuted in a post war America that was long past its expiration day. Holding onto a brand for this long amid a groundswell certainly isn't making a rash decision. To the team's credit, they took time to meet with many in the Native American community and with many of its detractors, both on the logo and on the name. Heralded sports writer Jeff Passan of ESPN, and native Clevelander, pointed out in his story from 2020 when Cleveland first announced it would be changing its name, referenced the feeling that the name change was in response to progressive or a "soft modern society" influencing the team. Instead, it was more about the team holding on as long as they could because it was their brand, and as Passan stated, "corporations will go to extraordinary lengths to protect brands." 
Ownership is hoping that people will stop caring and they will get over it. And they will. The death of a brand shouldn't be viewed as a death of something as powerful as the emotions drawn from what brought them to a ballgame in the first place. If a mega brand such as a 100 year old sports team can get over the fact they changed their name, regardless of the reason, fans should get over it, too. The name should evoke positive memories, that's what great brands do. What happened on the field for decades as the Cleveland Indians should be celebrated. 
Hopefully the Guardians will be around for 100 years, too, and the child on his or her paper route (do those even still exist?) or collecting baseball cards (those still exist, thankfully!) can build their own memories. Shirts and caps with Chief Wahoo will become faded relics, I'm sure plenty will remain behind glass, but let's allow the next generation the chance to embrace this change and learn a lesson from it, even if many now refuse to. Ballparks are drastically different experiences from the cigarette and beer scented parks of my youth. Nobody is asking anyone to erase memories. 
Regardless of how we got here, we got here. We ask these things when we look at pictures of ourselves, at many stages of our lives. Change is inevitable. While the Guardians may not be some of our first choices (personally, I was all for the history of embracing the "Sox" legacy, and wanted the name to be the Blue Sox) I look forward to next summer and ending the stigma of embracing a team that had a complicated history, in a sport that always promises its fans the chance of witnessing just that. 
By Tom Sarago
VP Communications
American Marketing Association, Northeast Ohio Chapter.