Strategies for Facebook and Instagram
In the previous post, we discussed how to start to get ready for 2021 by assessing where your brand is at and where it needs to go in regard to social media platforms. For part two of this two-part blog series, we'll focus on the strategies you can use to find success on Facebook and Instagram in the new year.
Why Facebook and Instagram? These are the platforms that almost every brand has in their toolbelt. Facebook continues to be the dominant social platform and Instagram is a very popular, growing platform that is brand and advertiser friendly. You could argue that right now TikTok is the hot new option advertisers should jump on, but most brands are waiting to see where the dust settles on that platform over time before making investments into it.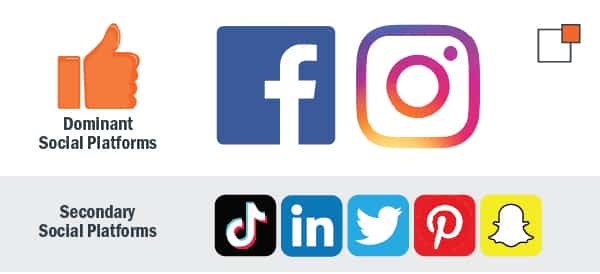 There are other advertising options such as LinkedIn, which is really only for B2B brand usage, and Twitter, which is not at the top of most brand's lists of platforms they have to be on due to the format and usage base. Going into 2021, Facebook and Instagram are still set to be the dominant, tried-and-true platforms for advertisers.
Social media and COVID-19
We write this post at the end of 2020 with the assumption that COVID-19 will still be disrupting the market for most if not all of 2021. We anticipate the continued disruption will contribute to some of the following consumer trends:
E-commerce adoption and usage will continue to increase.

Face-to-face selling will still be limited.

Community building will more strongly shift to online methods.

Product research and discovery will stay in online forms.

Social media participation will continue to rise and usage will be higher during COVID-19, especially during the colder months.
Even if just a few of these assumptions are true, brands will still have to adapt their Facebook and Instagram strategies for success in 2021. Here are some of the strategies the social media team at thunder::tech suggests.
After your social media audit, now what?
Once you've conducted a social media audit and assessed where you are and where you want to be, you can move forward on your social media strategy for the coming year. Use these strategies to start your thought process.
1. Decide Why You're Here
Justify in writing why your business should (or continue to) be on Facebook or Instagram. Detail what you believe are the goals of your efforts. These goals could be:
Brand awareness

Lead generation

Lead nurturing during a sales cycle (social retargeting is great for this!)

Direct product sales through social commerce or direct to your ecommerce outlet

Community building

Customer service channel expectations (particularly with Facebook)

Managing your employer brand
As you work through what the priorities are per platform and why they matter in 2021, tailor your content (organic posts and advertising) with these objectives in mind. 
While you're setting your own expectations, take some time to understand why your consumers use Facebook and Instagram. How can your commercial interests co-exist with these consumer expectations? Setting expectations on your social media presence and audience behaviors can lead to better tactics and more realistic ROI.
2. Keep Branding Consistent: 
Building a strategy and keeping consistency in brand content seems easy at surface level, but it becomes another story entirely when you're working at a day-to-day pace. It can be easy to lose sight of the fundamentals, so actively work to keep the following brand elements consistent.
Voice: The voice that is created by the person or team behind your brand on social media needs to live up to what your brand stands for and how it is perceived offline, too. Today, consumers have seen too much inauthenticity to put up with a mismatch and worse, it can actually lose you followers and fans. 
Visuals: Consciously decide on your visual approach to Facebook and Instagram. Compare how your brand is currently visually set up, who you're trying to appeal to, the visual approach your competitive set uses. Take inspiration for updating your visuals from the endless stream of amazing content on inherently platforms like Instagram.
Alongside this, invest appropriately in your visuals. We see many brands over or under-invest in their visual approach. The appropriate amount to invest depends on several factors, most notably audience size. In 2021, every brand needs to look great, but if your audience is in the hundreds or thousands and that's appropriate based on your size or competitive set, then don't spend needlessly on heavy animation and high production values. On the flip side, if you're aiming for an audience in the tens or hundreds of thousands of followers or more, amateur smartphone photo posts aren't going to keep your audience engaged over the long haul. 
As the size of your brand, price and positioning scale up,  more is expected of you. A brand with a bigger reputation is seen as a brand with the perceived resources to do it right. 
3. Customize Content to Your Audience Personas and Stick to Them: 
Review the importance of creating personas that result in impactful content that will resonate with groups. Each platform attracts different audiences, so your content must be adjusted to reflect those specific audiences. To help customize your content, note the key differences between each platform.
Instagram is a visual platform whose userbase will follow a brand simply so they can view aesthetically pleasing moments and find inspiration from original photos and videos.  Instagram is short form and "snackable" and allows for interaction with your brand (although limited compared to Facebook). This platform focuses on highly edited photos and video assets only.
Facebook is a longer form communication platform with more ways to interact with your audience. It also allows your audience to learn about your brand through details shared on a brand page. Content is easier to reshare, comment and discuss and the audience has multiple options to share how they react to your posts.
4. Engage
Many brands fall into the "post-and-run" habit (simply publishing content and not responding to comments or engagement) when busy. Understand the importance of replying to messages, comments and even starting your own conversations through social listening, and make sure your team understands it, too. All of this leads to better engagement and makes a brand more authentic and approachable.
5. Invest in Paid Opportunities
Organic social media is a must-have for all brands, but a paid social approach really kicks it up a notch. Social has become like search engine marketing where organic results are great, but it takes time to see success. Brands that want guaranteed, short-term success  need to pay for results on social channels. Fortunately, social media advertising tools continue to be one of the best ways to target specific audiences.
Facebook and Instagram offer laser targeted ways to get your message out, especially for brands with smaller marketing budgets. These platforms offer advertisers the best of both worlds (awareness and direct response) depending on needs. Both platforms are also interconnected with adtech and highly measurable. As with all advertising, give them ample time to perform then measure and move those budgets as necessary. 
If you aren't already investing in social media advertising, make this one of the first places you start strategizing for 2021.  For those that are new to social advertising, Facebook is more universal and can be an easier place to start advertising, but if you are a consumer brand that skews younger or more lifestyle orientation, push those media dollars to Instagram. 
6. Social Commerce
Facebook and Instagram continue to bridge the narrowing gap between product discovery and purchase. Shoppable features allow users to see a product on social media and click on the image to easily visit the product page and buy within a matter of minutes.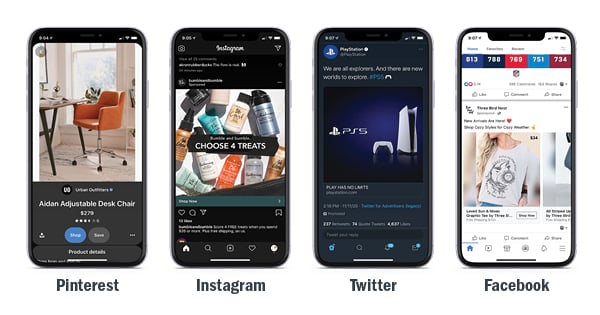 For e-commerce brands, it's important to use social media as a window shopping opportunity for your audience. Data shows that users prefer to stumble upon particular products versus using social media for researching a product category.  According to Forbes, 78% of consumers say that companies' social media posts impact their final purchases. If your brand already uses e-commerce, then social commerce has to be part of the mix. 
7. Partners
Social media can be lonely for a community manager. It's easy for the person in charge of managing your brand's voice and response to get burnt out or repetitive with content. Why not find as many allies as possible in creating great content for your brand?
The amount of influencers, affiliates, other brands, competitors and offline partners on the social-sphere is growing and will continue to grow in 2021. With so many options for allies, be sure to choose your partners wisely. Use contracts and create written expectations when forming partnerships.
8. Just Be There
Social media management is a full-time job, especially if you want it done right. The importance of consistent and frequent posting boils down to making users feel like a brand is paying attention and ready to provide great customer service. When you are ready to take your brand to the next level with visibility, make sure that you set up alerts and other ways to listen to brand mentions so you can proactively get involved in the conversation.
To prepare for a successful 2021 of brand building through social media, it's not about whether Facebook or Instagram is better than the other. Each has its purpose and the more you understand your audience and develop personas about their habits and expectations, you'll be guided to the right mix for your brand. 
Whatever your platform mix, these eight factors all work together to strengthen your social strategy on Facebook and Instagram. Work your plan, chip away at your tactics, research new tools and stay up-to-date with rising consumer expectations. With a little effort and a lot of strategy, you can build a breakthrough brand on social media in 2021!
Written by the thunder::tech Communications Department 
The thunder::tech Communications Department is chock full of strategists, advertisers, analysts, number crunchers, researchers and communicators. We specialize in managing complex marketing communications with a lot of moving parts spread across multiple disciplines.
About thunder::tech


thunder::tech is an integrated marketing agency delivering advertising, communications, web design, graphic design, video and branding expertise to our middle-market and enterprise clients across the globe. Are you ready to accelerate your brand?